Blog
2022 Q4 Laramar Love Recognize & Annual Elevate Everyday Living Award Winners
07 February, 2023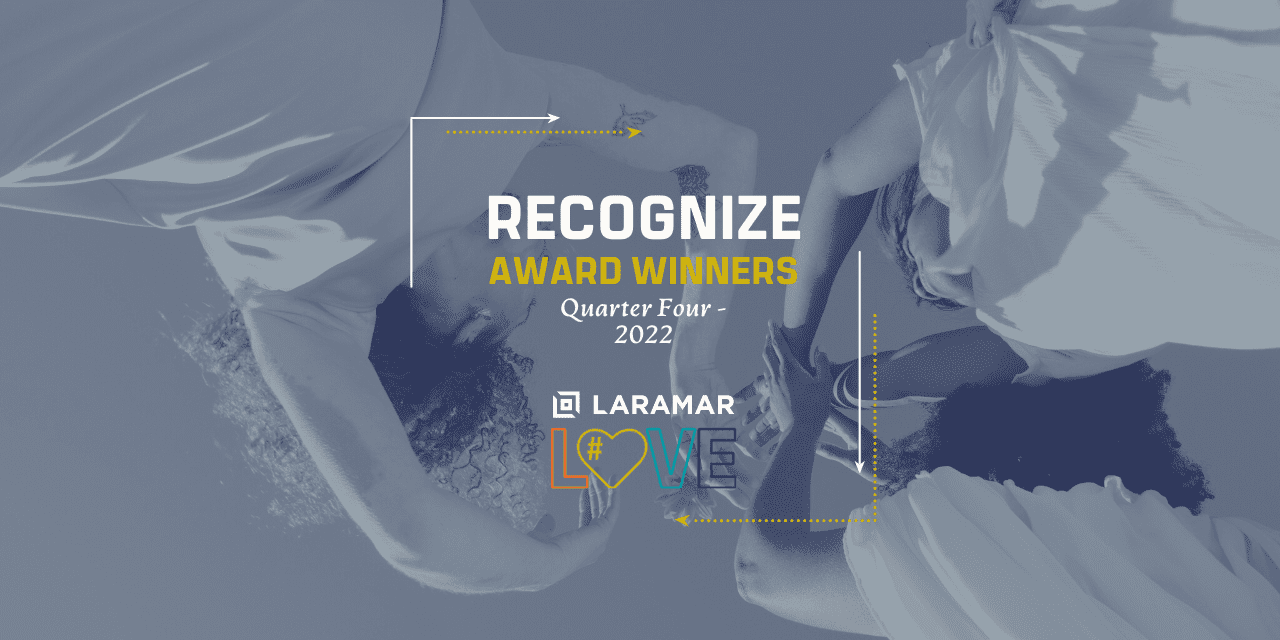 Let's celebrate all we accomplished in 2022 – We are ecstatic to announce and honor the Q4 2022 Recognize Award Winners! At the end of each quarter the award winners receive a $50 gift card and mix tile with the badge they won, and the Annual Elevate Everyday Living award winner receives $1000 and mix tile.
In Q4 Laramar coworkers sent a total of 2,170 badges to team members and in 2022 you all sent over 11,000 recognitions!
We Went for Wow by going above and beyond to dazzle a customer or co-worker frequently. In Q4, there were 466 Go for Wow badges sent, and 379 Make it Happen badges sent. We Made it Happen daily by figuring it out and not freaking out.
Our values bind us together and set us apart.  They reflect what we believe, how we act and ways we thrive.  Our values matter because they drive our culture – how we show up, operate, collaborate, and celebrate here at Laramar.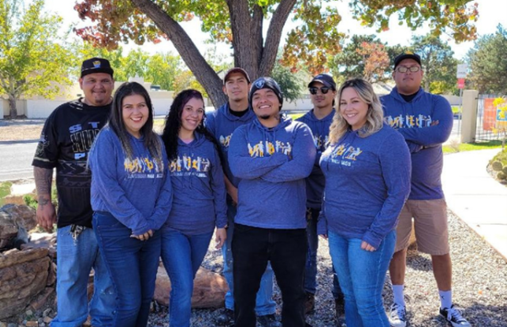 Be What's Next | Amanda Gainey | Community Manager | FL
Amanda embraced and lived the Be What's Next value in many ways in Q4 2022, here are a few kudos from coworkers. "Thanks for working with me on your make ready's and helping me understand your process. You have a heavy lift and are managing it well! You are amazing – juggling a million and one issues at a time and always staying calm."
Own It | Amanda Cernich | Regional Manager
Amanda day after day you Own It and lead by example!  A few of our coworkers describe Amanda's strengths in owning it, "Excellent call yesterday with presenting financials, today on our follow up call the client shared what a great job you did telling the story!  Also, thank you for the extra time on today's call going through A/R and partnering with me to create solutions and present to the client together.   You own every aspect of your properties performance and appreciate you being proactive with the challenges!"
"THANK YOU for all that you do! You are a fantastic leader and I appreciate that no matter how busy you are, you never fail to be responsive, timely, and kind. I can't wait to see what 2023 has in store for you and your team!" Way to Own It Amanda!
Make It Matter | Michaela Lamb | Leasing | CO
Michaela, you Make it Matter by speaking and acting from a place of impact! "Awesome job on a recent Lead Conversion survey that mentioned you!  Way to Make It Matter! "She was extremely helpful and answered every question and addressed every concern I had. When going over paperwork for application she made sure she didn't leave out any details and I left feeling fully informed!"
Make it Happen | Colin Tierney | Maintenance | CO
Colin way to go doing whatever it takes to Make It Happen! A few of our coworkers say it best, "Just when I think work orders are adding up you manage to bring them down so that they don't get out of hand. It really helps to have someone I can rely on to get the job done." "Thank you for holding down Dups while I helped in Glendale, your hard work is really appreciated!"
Make it Better Together | Jez Downer | Maintenance Manager | VA
Making it better together is essential to the success at Laramar and Jez lives this value daily.  Here, one of our coworkers describes how Jez is Making it Better Together, "You are the first to use the Light Log in Sight plan! Thank you so much for making it better together for team Laramar!" "We have exceeded our renewal retention goal for 2022! Our target retention was set at 58%, we are closing 2022 at 65%. Thank you, this is a reflection of all of your dedication and hard work at Bridgeyard. Truly appreciate each and every one of you!"
Go for Wow | Martin Saucedo | Maintenance Supervisor | CO
Martin you went above and beyond again and again, way to Go for Wow! You made a positive impact in Q4 2022 and a few of your team members describe it here, "I walked into the maintenance shop today and was shocked!  WOW!  City Gate's shop looks incredible!  Huge improvements and organization!  Thank you for being so prepared for your maintenance inspection today.  The units and property are sparkling!" "One of our residents have been waiting quite a while to get her wall repainted after some drywall repairs, today the vendor came out and we didn't have the paint for the ceiling. You went to the resident's apartment got a color match and drove to Sherwin Williams to get the paint. I know the resident appreciates this more than you know and so does the team!"
Build Trust | Dianna Adams | Community Manager | MO
Dianna lived the Build Trust value in Q4 2022. Here a few of our coworkers say it best, "Thanks for sending me the info on the dryer tools!" "Thank you for working with me to tackle these last few vendors in Net Vendor!"
Be Humble | Jacqueline Shanahan | Residential Services Coordinator | IL
Jacqueline, thank you for all you do to get the job done and Be Humble! Your coworkers describe it here, "Thank you for being awesome and keeping our RSC team on point.  You've been a big help in developing Marco and I appreciate you!" "I want to take a quick moment to say how much I appreciate you and everything you do for the RS team and the maintenance team, you always make it better, make it happen, AND make it matter! I feel lucky to be working with you, you rock Jackie!"
Stay Nimble | Liz Schott | Human Resources | CO
Liz way to pivot, grow and Stay Nimble! A few our coworkers describe Liz's ability to stay cool as a cucumber here, "Thanks for taking my call yesterday and being flexible with our needs and pulling off the requests so quickly!" "Thanks for keeping our team call new and fresh, by bringing an idea that was very timely and thoughtful!" "Thank you for helping me get offer details entered and getting an offer letter out at 10 minutes to 5pm!  I appreciate you pivoting to help me!"
Enjoy the Ride | Samantha Glover | Community Manager | NM
Samantha joined Laramar in November 2022 and is living the Enjoy the Ride value.  A few of our coworkers explain it here, "Thank you for getting me & Dawn to the airport safe and sound. Your precise driving skills are memorable." "Thank you for jumping right in and taking the lead and with such an amazing attitude!  I appreciate you taking charge and your eagerness to learn to make positive changes to these communities.  Your optimistic approach with the team is shining through, you got this!"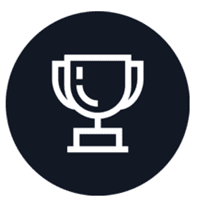 Annual Elevate Everyday Living Award | Jose Salazar | Maintenance | CO
This years, Elevate Everyday Living award goes to someone who embodied and lived all of Laramars values in 2022.  We are delighted and honored to celebrate Jose Salazar with the Elevate Everyday Living award.  There were so many comments and we had to pick a few, read on to see how Jose's team members share their gratitude here, "I was stopped in the parking lot of a property today by a resident who just sang your praises!  She mentioned how she misses seeing you in Glendale and how you were a friendly face. She stated that you waived and said hello every time she saw you on property.  You've helped her get her trash into the dumpster and held doors open for her.  It all sounds like simple things, but it means the world to the residents! Way to Elevate Everyday Living!" "Thank you for putting on your superhero capes again today to jump into another Glendale pipe burst! We appreciate everything you are doing for Denver Local during this thaw!" "Such a kind soul you are! Jose can read me like a book and knew I wasn't having a great day yesterday.  On my way home I got a call just checking on me.  How many people care enough to do that. You really do embody all the Laramar core values plus the great human being qualities also.  You are incredible, and we are so lucky to have you, not only on our team, but also as a friend!" Thank you for all that you do to Elevate Everyday Living!
Connect with us
For over 30 years, we've delivered an unparalleled level of service to the real estate industry. Now, we're ready to connect with you.
Contact us