Blog
Laramar Q2 2022 Recognize Award Winners
12 August, 2022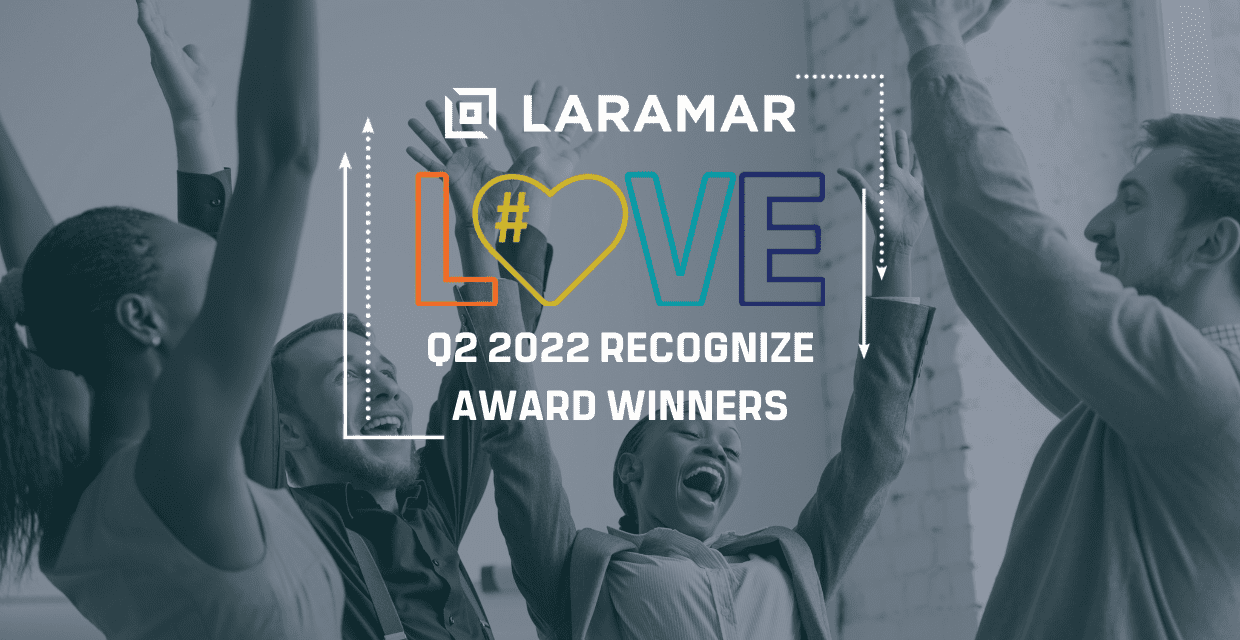 We are happy to celebrate the Q2 2022 Recognize Award Winners! Every QTR the award winners receive a $50 gift card and mix tile with the value badge they won.
In Q2 Laramar coworkers sent 2,872 recognitions to team members. We have had excellent participation in the last year:

93% of coworkers have received a recognition
51% of coworkers have sent a recognition

In Q2, we Made it Happen daily and we know how to Go for Wow making those two the most sent badges. We Made it Better Together by lending a helping hand when someone needed it.
Go For Wow | Alexis Saxton | Resident Relations Manager | VA
Alexis started in September of 2017, she creates an incredible experience for residents and Goes for Wow in her daily work and interactions! Here a resident says it best with a 5 Star Review, "Bridgeyard Old Town will always hold a special place in my heart because of the great memories formed there. Let me start off by saying that Alexis S. is amazing! Laramar, promote her because she's going places!! After looking at numerous apartments in the area, Bridgeyard was the final tour and lucky me that Alexis was the one who happened to be in the office that Saturday. She was so personable, kind, and informative that by the time the tour ended – I went straight to RentCafé to apply. While we were talking, several residents stopped by the office, and I recall being impressed at how Alexis remembered every single person and addressed them by their name. I just know she only has to see you once and then she remembers you! After moving in to my one-bedroom apartment, I did have to submit some maintenance requests which were promptly resolved. The maintenance team is great. I really enjoyed living at Bridgeyard and the location is just perfect. I had to end my lease early due to a work relocation and Alexis made sure to make the process seamless for me. I'm not at my new apartment and let me tell you – they sure don't have an Alexis on their staff! I know that most reviews focus on the apartment itself and the amenities, but I think that a lot of emphasis should be placed on the staff that you'll be dealing with. It's an apartment – you're going to have to deal with other residents, have maintenance requests to log, and other things that pop up along the way. I don't care how "nice" the apartment is itself – if the staff is awful, you'll have a miserable experience. You're in good hands here at Bridgeyard. The apartments are what they say they are. The staff is TOP NOTCH. Very happy with my experience here!" Way to Go for Wow Alexis!
Make it Better Together | Angie Cheek | Regional Affordable Compliance Manager | VA
Angie recently stepped into her role as Regional Affordable Compliance Manager, and she immediately started to Make it Better Together! Here, one of our coworkers describes how Angie is Making it Better Together, "Thanks for taking time out of your busy schedule to walk through Blue Moon with me for some changes yesterday! You are juggling a million things and still made time for it and me! A million thanks! This will make things so much easier for move ins for residents and office team members!" "Thank you for collaborating ideas and Making it Happen all while Making it Better Together!"
Make it Happen | Ryleigh Mussato | Residential Services Coordinator | CO
In Ryleigh's short time here, she has made a huge positive impact by Making it Happen. A few of our coworker's kudos in Q1, "thank you Ryleigh for helping and reaching out to my prospects and future residents when I was not here! You're the best!" and "Thank you Ryleigh for endlessly working on the never-ending queue. You took the challenge and, with a little help from your friends, you are conquering it.  Love working with you!" "We have been joined at the hip for a while and I just want to say I can't think of anybody I'd rather be doing these oh so hectic days with.  You get things done, let me vent and we sing (if that's what you call it) well together!!  You go above and beyond for me, and I am so grateful for you!" You know how to make it happen Ryleigh, we appreciate you!
Make It Matter | Anthony Dallis | Maintenance Supervisor | FL
Anthony, you Make It Matter by acting from a place of impact and giving it your all to make the property shine! "The property looked great and love the energy and care you go the extra mile for your residents!  Thanks for a great and very productive visit!" "Thanks for your diligence in preparing the Gregory Cove pool for a visit while the pump was down. It was sparkling blue!" Congrats on passing your Certified Pool Operator (CPO) licensing!"
Own It | Carla Lucero | Sales & Marketing Manager | CO
Carla takes initiative to get things done and has Owned It in Q2 2022! A few of our coworkers express their gratitude here, "Thank you Carla for coming in on your day off to help hold down the Glendale fort! You have helped us all so much this week with the queue, move-ins, and all kinds of super fun situations with residents. I appreciate you so much!" "Way to go on taking on a situation yesterday and owning it! Not only did you provide AMAZING customer service, but you Own It also juggled things around and got two new residents calmed down and settled. You did the right thing by everyone and all the while communicating with everyone. Thank you, Lucero!"
Be What's Next | Morgan DeClue | Leasing Consultant | MO  
Morgan took on a whole bunch of new tasks and lived the value Be What's Next in Q2 2022. Here some of our coworkers share their kudos for Morgan, "CONGRATS! Same day applicant approved! And "Way to Be What's Next by staying one step ahead on renewals AND applications! You're shining bright!"
Build Trust | Alek Munoz | Assistant Portfolio Manager | IL
Alek joined Laramar in March of 2022 and he has quickly built trust. Here one of our coworkers says it best, "Thank you so much for taking the time to review best practices on invoice coding with us…we appreciate you!" Way to go taking initiative to Build Trust right away.
Stay Nimble | Angela Franklin | Community Manager | VA
In Q2 2022, Angela Stayed Nimble by navigating some difficult situations at her property. Here a few coworkers share their appreciation, "Great work today communicating with the water company and Telcom when they hit the property water line! Way to stay professional, stand your ground and not give in while communicating with the crew on property." "Thank you for answering my texts after hours yesterday evening to put the puzzle pieces together on the internet outage for your property. I am glad all is back in working order. "
Be Humble | Krissy Winters | Leasing Consultant | IL
Krissy joined Laramar in December of 2021 and she quickly made a difference while being humble. In Q2 2022, she had a week with a 100% closing ratio. Here one of our coworkers says it best, "You were a HUGE help this week and did an AMAZING job! Thank you for taking the Rentmax call, all the updates on the tracking sheet while Yardi is down, running the office solo while I was out, and all the leasing applications you took!"
Enjoy the Ride | Chad Gleim | Maintenance Technician | CO
Chad recently started at Laramar, and he hit the ground working hard and Enjoying the Ride! Here a coworker, gives Chad kudos, "Since starting with Laramar Chad brings a smile to everyone's face…it might be his dog, but Chad is always in a good mood and works hard. He has taken great pride in the care of the dog park, and we get nothing but compliments about the dog park now. It is great to see how much this work means to him. Keep up the amazing work Chad."
Our values bind us together and set us apart.  They reflect what we believe, how we act and ways we thrive.  Our values matter because they drive our culture – how we show up, operate, collaborate, and celebrate here at Laramar.
---
Connect with us
For over 30 years, we've delivered an unparalleled level of service to the real estate industry. Now, we're ready to connect with you.
Contact us