Blog
Laramar Q3 2022 Recognize Award Winners
09 November, 2022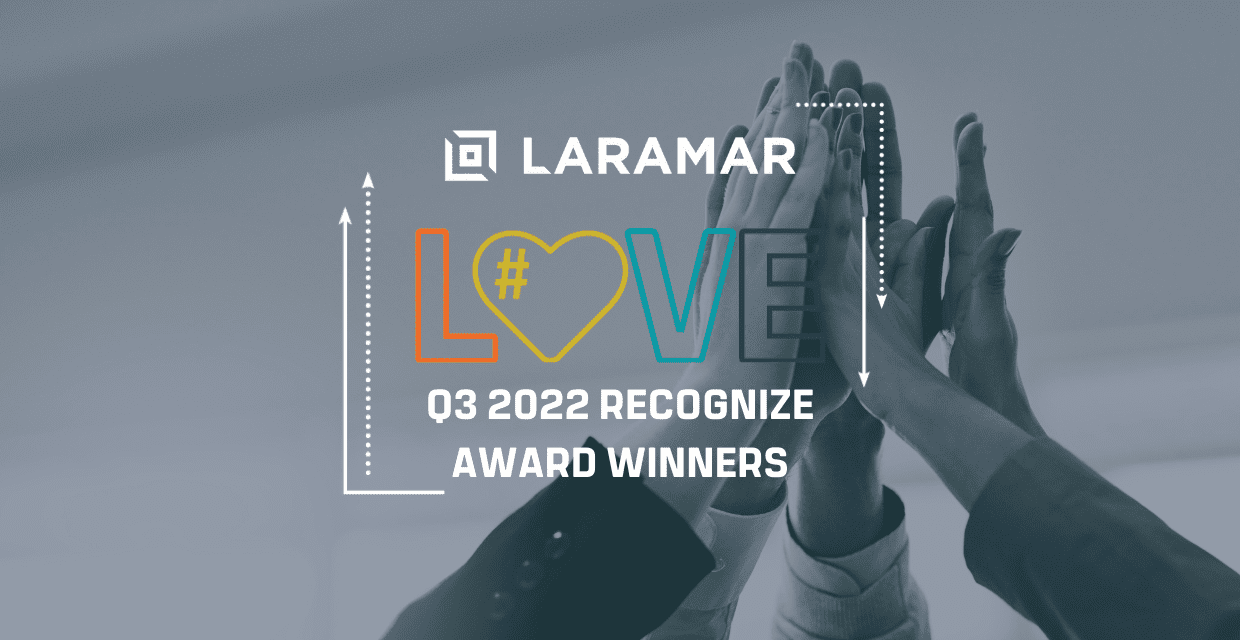 Q3 2022 Recognize Awards
The heart that gives thanks is a happy one, for we cannot feel thankful and unhappy at the same time.  ​
– Douglas Wood
We are delighted to celebrate the Q3 2022 Recognize Award Winners! Every quarter the award winners receive a $50 gift card and mix tile with the value badge they won.
In Q3 Laramar coworkers sent 2,536 recognitions to team members.
We Went for Wow daily and Made it Happen in Q3 making those two core values the highest sent badges.
Go For Wow | Tabatha Wall | Leasing Consultant | MD
Tabatha joined Laramar in April of 2022. She quickly made a positive impact on all those around her and she Goes for Wow with her work and incredible customer service skills. Way to Go for Wow with this 5-star review, here a resident says it best, "I had an in-person tour with Leasing Consultant Tabatha Wall, she treated me like an individual, showed me the community and addressed my questions about the community. She really made me feel welcomed. Hope to become a future resident of Crossings at Russet."
Make it Better Together | Sam Tucker | Director of Portfolio Analysis | CO
Sam supported everyone in operations with the budgeting process, he lived the value of Making it Better Together in Q3 2022! Here, two coworkers describe how Sam Made it Better Together, "Thank you SO much for putting the Denver Local budget sheets in GL order! You have NO idea how much easier it makes it for budgets! Thank you for making it happen this year! It's BUDGET TIME!" and "Thank you for your help with directing me on best place to load workbooks and stepping in to create folders for easy access as we gear up for Budget Season!"
Make it Happen | Jim Hindert | Portfolio Maintenance Manager | CO
Jim joined Laramar in the fall of 2021 and he has made a huge positive impact by Making it Happen every day. Most recently, he was promoted from Maintenance Manager at Avery Park to Portfolio Maintenance Manager at Denver Local. Here a few coworkers describe Jim Making it Happen best, "Your scheduling and organizational skills are impressive!  Thank you for all the time and effort you have put in to getting us an updated schedule for Avery Park.  It's going to be an incredibly busy two weeks, but we've got this, thanks in large part, to you!" and "You jumped in and don't get flustered.  When I came to you 15 times today with issues you usually knew what I was talking about and already had it handled. You are going to be amazing!!  Thank you for all you've been doing.  I appreciate you so much!"
Make It Matter | Jose Salazar | Maintenance Supervisor | CO
Jose, you Make It Matter by acting from a place of impact and creating a positive experience for coworkers and residents daily. Here a few coworkers say it best, "Once again a BIG shoutout to Jose. I had a tour today who showed up 45 minutes late. I was busy sending out an email blast for an issue at 878, Heller was helping her clients move in, and the prospect was not able to reschedule for later today, so Jose offered to show the apartment for me. He showed them B103 and even gave a little tour of the building. Thank you once again for going above and beyond! We appreciate you so much!" and the leasing team received this feedback from a resident, "she was super impressed with how quickly you responded to her leak and got everything taken care! She specifically said – make sure he gets a shout out! Way to make it matter with our residents Jose!"
Own It | George Crowley | Maintenance Supervisor | VA
George takes initiative and Owns It! George's forward thinking on addressing issues at the property is incredible and helpful. A coworker describes it best here, "Thank you for owning it this weekend with the chiller issue at Trillium!  Way to own it with communications, ordering parts and working together to handle and deal with the challenge!"
Be What's Next | William Davidson Jr | IT Manager | MI
Since joining Laramar earlier this year William has welcomed new ideas and embraced Being What's Next by leading new trainings. "Great job on the Teams Training!  This really helped our teams feel more comfortable and you were ready to answer all the questions. We are ready to learn more tricks on Teams." "Thank you for the time and energy you put into highlighting a project you have been working on! It was so helpful and exciting to see the demo and learn more about it."
Build Trust | Mandy Banas | Community Manager | IL
Mandy Builds Trust by communicating honestly and respectfully. Here a resident says it best with a 5 Stars Fantastic Review: "The MORGAN is THE place to live at Loyola! The apartments are great along with awesome views. No issues what's so ever. I had so many questions for Mandy and her customer service was top notch. She answered in detail what concerns I might have had with moving cross country and put my mind at ease. I knew this was the place for me. You won't be disappointed living at THE MORGAN."
Stay Nimble | Wanda Monroe | Community Manager | VA
Wanda recently joined Laramar and jumped right in to make a positive impact by Staying Nimble. Here a few coworkers say it best, "Thank you for working with me last Friday on your first newsletter submission! Love the events you added to the August calendar! The residents are going to love them!" "Great job on learning how and submitting your first move in file today."
Be Humble | Dustin Turner | Painter | MO
Dustin lived the core value of Being Humble and he made a positive difference at his property and at a sister property too! Here a few coworkers say it best, "Your attention to detail and productivity does not go unseen! Way to finish a day early and knock out several work orders for drywall repairs today." "Thank you for assisting at a sister property while we are working on a due diligence! I appreciate you!"
Enjoy the Ride | Alicia Burke | Community Manager | MO
Alicia celebrates victories and spreads joy regularly with coworkers, whether it's a day of appreciation or celebrating national waffle day with toppings she is living the value of Enjoying the Ride. "I love your social media post this morning about National Waffle Day and how you listed each staff members favorite waffle toppings! Super cute! And they all sound delicious! Way to BE SOCIAL! Great work team!"" Thank you for making my job so enjoyable. I have learned so much from you in the last 9 months! You make everything easier for your team, because of how hard you work!"
Our values bind us together and set us apart.  They reflect what we believe, how we act and the ways we thrive.  Our values matter because they drive our culture – how we show up, operate, collaborate, and celebrate here at Laramar.
Connect with us
For over 30 years, we've delivered an unparalleled level of service to the real estate industry. Now, we're ready to connect with you.
Contact us